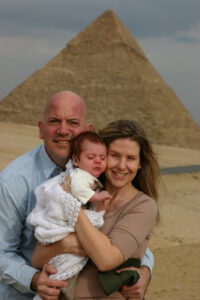 For most of the past 15 years, I've lived abroad due to my husband's work.  Parenting and being part of vibrant expat communities in 4 countries (Egypt, Korea, Germany and the US) on 4 continents opened my eyes to many different customs, traditions and approaches.  After 4 years in Germany, I am now back on the Main Line to stay and am bringing my services to new and expecting parents in the Philadelphia metro area.
Preparing for birth, breastfeeding and parenting can be tough for parents because there is so much conflicting information out there. The advantage of all of that information is that different approaches work for different families. My expat experiences have shaped my philosophy of care: I am here to help you find your way.
                                                       The Beginning
I came to birth work in search of solutions for myself. After overcoming breastfeeding challenges with my first child (born in 2006 by cesarean), I began helping others. Breastfeeding support group became much more fun after I graduated from receiving help and support to giving it. I learned so much about a wide range of breastfeeding issues and solutions from attending that group and I made friends along the way.
Hypnobabies
Then, I found Hypnobabies while preparing for the VBAC (Vaginal Birth After Cesarean) birth of my 2nd child in 2009. I immersed myself in birth: reading birth stories, doing Spinning Babies and reading books. Thankfully, I had a fast and easy Hypnobabies birth. As I pulled her up to my chest I said,"That was it? I could have 10 children!" My 2nd thought was,"I have to share this with others!"
Birth Doula
I became a doula in Seoul, South Korea in 2010 to help a friend prepare for her VBAC. She'd had a traumatic first birth and became a doula herself before she became pregnant with her 2nd child. I knew two things when I agreed to be her doula:
Her birth could not be my first birth as a doula.
We needed to prepare for a positive birth experience whether that would result in a VBAC or a CBAC (Cesarean Birth After Cesarean)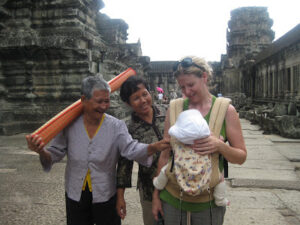 In the end, she had a challenging, yet empowering home waterbirth VBAC and I kept going as a doula. That birth was formative in my approach to care as a birth doula. We can't control how birth plays out, but as a doula I will do my best to ensure you have the information and support you need to navigate your experience and welcome your baby.
Hypnobabies Instructor & Hypno-Doula
I became a Hypnobabies instructor and Hypno-Doula in 2011 because I believe in skills-based preparation. Skills belong to you and they work for straight-forward, easy births like mine AND challenging births like my friend's.  Hypnobabies is packed with childbirth education, but information alone doesn't help with the physical act of birthing.  Parents are able to create self-hypnosis tools to physically and mentally move through pregnancy and birth no matter what path their birthing takes.
I had one more Hypno-baby of my own in 2012 and my family was completed. From scheduled cesarean to two Hypnobabies VBACs, I've experienced birth on both ends of the spectrum. As a birth doula, I've had the honor of accompanying families as they birthed at home, birth centers, and hospitals, both medicated and unmedicated and by cesarean. Wherever your journey leads you, whatever your birth preferences, I will be with you.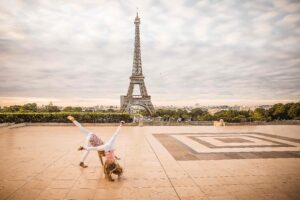 Postpartum Doula
My great-grandmother used to say,"Every baby writes its own book".  I would change that to say,"Every family writes their own book." What will work for you depends on your beliefs, values, circumstances, personalities, etc. plus, those of your unique baby.  I will always present you with the full range of options that I am aware of and trust you to make the decisions that are right for you.
Travel
My husband, 3 children, and I love to travel and explore the food in other countries. If there is water, we always jump in, no matter how cold. If it can be climbed, we climb it! We were fortunate to climb Notre Dame before the fire.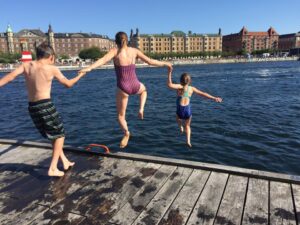 Languages
We also enjoy learning languages. We used Baby Sign Language based on ASL signs with our children as babies. I've studied French, Japanese and Arabic over the course of my life and travels, and even though much of it has faded over time and countries, the experiences of learning and communicating have been tremendously impactful. We decided to really commit to learning German when we lived in Germany. My children spent 4 years in German school and I took German through level B2. which enabled us to integrate into the culture.   Now, we are continuing our connection to Germany by participating in Philly Kinder, a group for English-German bilingual children.
All Things Birth!
I am always studying about birth, breastfeeding and postpartum. Finding solutions and developing skills in parents brings me joy. I continue to improve my skills so that I can improve your experience. My goal is to help you prepare your mind (Hypnobabies), body (Body Ready Method) and life (Postpartum planning) for birth!
Highlights of Qualifications & Trainings:
Hypnobabies Childbirth Hypnosis Instructor & Hypno-doula certification through Hypnobabies
Hypnotherapy certification through Center of Success
Birth Doula Certification through Childbirth International with additional training through Birthing in Korea
Postpartum Doula Certification through Childbirth International with additional training through Sacred Postpartum
Breastfeeding Counselor Certification through Childbirth International with additional training from Dr. Suzanne Colson (Biological Nurturing) and Microbirth School
Certified Thompson Method Breastfeeding Educator
Body Ready Method Professional (Level 2)
Restore Your Core Certified Instructor
Prenatal Yoga Instructor through Blooma Yoga
200 Hour Yoga Teacher Training through Raja Yoga
Placenta Encapsulation Specialist through PBi and Sacred Postpartum
Licensed Baby Signing Time Instructor
Spinning Babies
Rebozo with Gena Kirby
Creating Pelvic Space with Brittany McCollom of Blossoming Bellies
Processing Perinatal Grief through Hearthside Perinatal & Bereavement Care
Evidence Based Birth Professional Member
Other baby-related areas of knowledge and experience:
Baby-wearing
Cloth Diapering
Elimination Communication
Baby Sign Language
Infant Sleep

In Morocco